TearUp Events - TearUp the Adirondacks 2019 (June)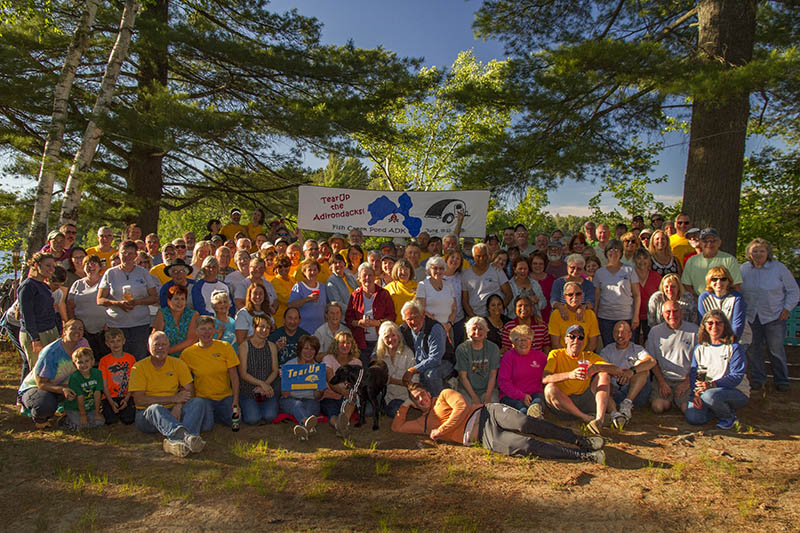 TearUp the Adirondacks 2019 (June)
Another great event has past!
Now open for registration! Please be sure you are showing up on the list. If not you can register directly from the event.
This is our BIG event and the one that started it all! We started the first TearUp the Adirondacks event at Fish Creek Pond Campground back in 2005 with just a few of us. It has since grow every year with 138 campers attending the event in 2018 !
This is one if not the most popular campground in New York State for those that love camping smack lakeside on an Adirondack Lake. All sites chosen for this event are directly by the water.
The highlights of this event are the Friday night beer tasting and pizza evening, the Saturday group paddle and the Saturday night wine and cheese/steal-a-gift evening and campfire. As well for those staying over Sunday night there will be a farewell campfire with music (we have several campers that bring guitars or other musical instruments).
Dates: Thu June 13 - Mon June 17, 2019
Suggest Sites: Sites 180-295
Activities: Socializing, Kayaking, Biking, Beer Tasting, Wine and Cheese / Steal a Gift Evening, Fairwell Evening with Music
Schedule of Events: (see full details in the Event Guide)
- Thurs night (7-10pm) - welcome campfire on site 235
- Friday night (5:30-9pm) - beer tasting on site 235. We will be providing limited snacks (a few pizzas and nacho chips). Sadly Randy and Louise won't be making it to host this year)
- Saturday morning (10am to approx 2pm?) - group paddle (weather permitting), rain date Sunday same time
- Saturday night (5:30-10pm) - wine & cheese/steal-a-gift and campfire on site 235
- Sunday night farewell campfire with music (7-10pm) on site 235
Items to Bring: bikes, kayaks (you can rent if need be), a few different beers to share for beer tasting night on Friday, bottle of wine and snacks / cheese plater for the Wine and Cheese on Saturday night, musical instrument for the Sunday night fairwell campfire if you wish.
List of All 134 Campers That Went
| Participant Name(s) | Site# | Dates | From | Equipment |
| --- | --- | --- | --- | --- |
| Susan and Paul Horstmann | C13 | Jun 14-18 | Pleasant Valley, New York | The Teardrop Trailer, Cedar Valley Ontario. 5x8 Di |
| Ron and Olivia Danforth | A007 | Jun 13-18 | Willsboro, New York | Rockwood Pop-Up |
| Don & Joan LaPierre | 56 | Jun 14-17 | Mooers Forks, New York | |
| Dennis & Madeline LaPierre | 57 | Jun 14-17 | Saratoga Springs, New York | |
| Peter Rinaldo | 111 | Jun 12-19 | 34613 | Fifth Wheel |
| Tom & Alana Buscher | 158 | June 14-17 | Greenville, New York | Nucamp Teardrop QMax |
| John Cuer and Nancy Gramkee-Cuer | 173 | Jun 13-17 | West Henrietta, New York | 21 ft travel trailer |
| Dan Canty & Nicole Delcore | 182 | Jun 13-Apr 17 | Indian lake, New York | Homebuilt 5x8 |
| Tim | 186 | Jun 16-20 | Virginia | Motorcycle tow behind Trailer |
| Gail Furst | 188 | Jun 13-17 | Branchport, New York | 2004 T@B Dutchman |
| Kerry & Robb Armstrong | 190 | Jun 13-17 | Lowell, Massachusetts | Tent |
| Jim & Sue Harter | 191 | June 13-17 | Maynard, Massacusetts | Camp Inn 560 Ultra |
| Bet & Brock Langdoc | 196 | June 14-17 | Rotterdam, New York | still looking! |
| Tim & Heather | 197 | June 13-17 | Niskayuna, New York | T@G Outback |
| Pauline & Mick Perreaux | 199 | Jun 13-18 | Pierrefonds, Quebec | Little Guy 5-wide |
| Steve & Phylis | 201 | Jun 14-17 | Broadalbin, New York | Phyll's Fairyland-Princessville |
| Larry & Lynda Knoble | 202 | Jun 13-17 | Baldwinsville, New York | 24ft Lance Trailer |
| Chuck & Sandy | 203 | June 14-16 | Tiverton, Rhode Island | 5x8 Teardrop |
| John Gardner | 205 | Jun 13-17 | Brockport, New York | Vardo trailer |
| David and Renee Moskowitz | 206 | Jun 14-16 | Peekskill, New York | Custom teardrop |
| Jeff, Maria | 209 | Jun 12-16 | My Living Room | 1966 Arrow Little Chief Canned Ham |
| Betty and Rich Filkins | 211 | Jun 5-25 | Westerlo, New York | Motor coach |
| Rosemary Yanson | 215 | Jun 13-17 | Schoharie, New York | Little Guy Max |
| Kim and Albert | 218 | Jun 14-17 | Manotick, Ontario | 1961 Shasta |
| Lori & John Simon | 220 | June 13-17 | Arlington, Vermont | 1959 Metzendorf |
| Erin Sheridan | 221 | Jun 14-17 | Cambridge, New York | |
| Clancy | 221 | June 12-17 | New York City, New York | Clancy's Cabana (tent) |
| Shannon McMahon | 223 | Jun 13-17 | Alma, New York | Rustic trail papa bear |
| Fish Bum Frank | 224 | June 18-23 | Shrub Oak, New York | Homebuilt 6x8 Teardrop |
| Don & Barb Braun | 225 | June 12-16 | Hamlin, New York | Homebuilt 4x10 Teardrop |
| Mark Boncek | 226 | Jun 13-17 | Claryville, New York | Homebuilt 6 by 10 teardrop (Simpson's Mancave} |
| Mark & Pat | 227 | June 11-18 | Smyra, Tennessee | 1960 Metzendorf |
| Rick & Diane Sheerin | 228 | June 12-16 | Liverpool, New York | 2017 Intech RV Explorer |
| Anita Stuart | 229 | Jun 11-18 | Lanark, Ontario | 2010 Little Guy Rascal |
| Paul LaHaise | 230 | June 13-17 | Carleton Place, Ontario | Homemade 4x8 |
| David & Lynn Griffin | 231 | Jun 13-17 | Freeville, New York | Vintage Cruiser |
| Ray & Stacy Finney | 232 | Jun 13-16 | Liverpool, New York | Home built 4 x 10 camper |
| Tim & Tonya Houlihan | 233 | June 13-17 | Castile, New York | Homebuilt 5x8 Teardrop |
| Doug Smith | 234 | June 13-17 | Rensselaer, New York | T@G XL Boondock Teardrop |
| Dave & Kate McGrath (Hosts) | 235 | Jun 13-17 | Ottawa, Ontario | 1976 Scotty Sportsman Reno (Cabin Cruiser) |
| Rick & Chris Frazer | 237 | Jun 12-16 | Troy, New York | Truck Camper |
| Lauren, Jim and Barb Frazer | 238 | Jun 13-16 | Corning, New York | Teardrop and Tent |
| Chuck & Barb Porter | 239 | Jun 12-17 | Medina, Ohio | Cargo Trailer |
| Ken & Pat | 240 | Jun 12-17 | Valencia, Pennsylvania | Scamp 16' |
| Rich & Val Ulmes | 241 | Jun 12-17 | Findlay, Ohio | Winnie Drop 1790 |
| Dale & Vicki Struhar | 242 | Jun 12-17 | Madison, Ohio | Little Guy Max |
| Ruth Erdmann | 243 | May 26-Jun 17 | Rochester (Fairport), New York | 1971 Serro Scotty |
| Nadine Corrigan | 244 | Jun 13-17 | Remsen, New York | Yellow T@G |
| Mike French and Elizabeth Williams | 246 | Jun 12-17 | Nelson, New Hampshire | Home built 5X10 Ft Tear |
| Elaine | 247 | Jun 13-17 | Catskill Mts, New York | East Coast Teardrop |
| Fred Plant | 248 | Jun 13-17 | Saugerties, New York | Giant Tent |
| Gail & Tom Bradshaw | 249 | Jun 12-30 | Wilmington, New York | Lance 1685 Travel Trailer |
| John & Henrietta Foster | 252 | Jun 10-17 | Rochester, New York | 2016 T@B trailer |
| Barbara Beall and Chris Frielinghaus | 253 | Jun 14-16 | Queensbury, New York | T@G blue and white |
| Trish and Paul Gerhardt | 254 | Jun 13-17 | Centreville, Maryland | 2017 T@B 320 |
| April and Dan Speed | 256 | Jun 13-16 | East Greenbush, New York | 1971 Scotty 13ft |
| Heidi Becker | 258 | Jun 14-17 | Monroe | what ever I can stuff in ;) plus Ralph my dog |
| Cathy Cochran | 258 | Jun 13-17 | North Providence, Rhode Island | Tag XL |
| Ven & Victoria | 259 | Jun 12-17 | Monroe, New York | T@B |
| Joe & Donna Aquilino | 260 | Jun 12-17 | Webster, New York | T@G Trailer |
| Mark & Gretchen Dwyer | 261 | Jun 12-16 | Chittenango, New York | NuCamp TAB 320CS |
| Suzanne and Andre Bourget | 262 | Jun 13-17 | Ottawa, Ontario | Silver shadow, little Guy trailer |
| John & Claudette DeSerres | 263 | Jun 12-17 | St. Eugene, Ontario | Bombardier Play Cat |
| Jim & Sandy Schottenham | 265 | Jun 13-16 | Brookfield, New York | 1978 Wilderness |
| Lisa Traver | 270 | Jun 13-17 | Orange County, New York | 66 Scotty |
| Dan & Adrienne Ladds | 274 | Jun 14-17 | Hogtown, New York | 2016 R-Pod 179 |
| Peter and Susan Hyslop | 275 | Jun 13-17 | Elkton, Maryland | T@B |
| Audrey kiernan | 278 | Jun 13-16 | Queensbury, New York | Playmor |
| Susan Bechh | 279 | Jun 12-17 | Conrvall, Vermont | 2012 R-Pod 171 |
| Peggy Brown | 280 | Jun 12-17 | Maynard, Massachusetts | 2016 Scamp |
| Clancy McKenna | 281 | Jun 12-17 | NYC, New York | Tent&EZUp |
| Laurie Tierno | 282 | Jun 12-17 | Acton, Maine | Micro Minnie 1706FB |
| Jim & Karen Sheets | 291 | Jun 13-16 | Newport, New York | 1961 Metzendorf |
| Neal & Kathleen | 293 | Jun 14-16 | Endfield, New Hampshire | Lance truck camper |
| Dave and Lynn Castleman | 294 | Jun 14-16 | Massena, New York | 2015 T@b cs-s |
| Michael and Sylvia Brancatelli | 296 | Jun 13-16 | Niskayuna, New York | CampInn Tear Drop |