TearUp Events - TearDown the Adirondacks 2021 (October)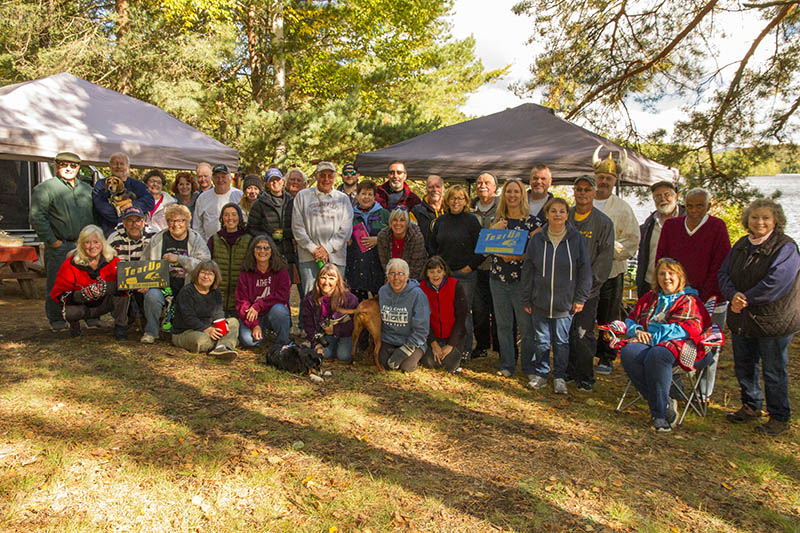 TearDown the Adirondacks 2021 (October)
Please be sure you are showing up on the list if you have reserved a site. If not you can register directly from the event page.
This is a slightly smaller gathering (50-70 people) compared to the main June event held over a three day weekend at Fish Creek Pond Campground. We usually get a group together to paddle on the Saturday and have a mid afternoon pot luck which is always a blast !
NOTE! Due to the COVID-19 pandemic we had to cancel our other two events. Hopefully this one will proceed!
Dates: Thu Sep 30 - Sun Oct 3, 2021
Suggest Sites: Sites 78-128
Activities: Socializing, Kayaking, Biking, Happy Hour and Campfires. Swimming is still possible for the brave soles. Hopefully Nadine will have her book library open as well!
Items to Bring: bike, kayak, something for the Saturday night happy hour (snack plate and refreshment).
List of All 57 Campers That Went
| Participant Name(s) | Site# | Dates | From | Equipment |
| --- | --- | --- | --- | --- |
| Scott and Cindy Baerman | C016 | Oct 1-3 | Ray Brook NY | Vistabule |
| Elaine & Fred | A018 | Sep 30-Oct 3 | Catskill Mts. | Tent |
| John O'Malley | A020 | Oct 1-3 | Rochester, NY | Pleasant Valley Lil Traveler teardrop |
| Patrick R Kane | ny | Sep 30-Oct 4 | Wynanskill | T@G teardrop |
| Raina Barnes | Walkup | Sep 30-Oct 3 | Fort Plain NY | Tent |
| Margot Erhardt | Walkup | Sep 30-Oct 3 | Northville, NY | Campinn Ultra 560 |
| Amy Wood | 006 | Sep 30-Oct 4 | Medina, Ny | T@B 320S |
| Patricia and Paul Gerhardt | 19 | Sep 30-Oct 5 | Centreville, MD | Bambi 16 |
| Michael & Lynn Lewis | 22 | Sep 30-Oct 3 | Gloversville, New York | Red T@G |
| Leslie and Alan | 58 | Aug 27-Oct 4 | NW Ohio | Partially converted Van |
| Bonnie Wilkins | 75 | Sep 28-Oct 7 | Almond, NY | Keystone Passport |
| Michael Cooper & Maureen Moore | 81 | Sep 30-Oct 3 | Warrensburg NY | Little Guy Max |
| Bob and Melissa Herson | 86 | Sep 30-Oct 3 | Caledonia NY | T@b 320 |
| John and Cindy Dzioba | 93 | Sep 30-Oct 4 | Cazenovia NY | T@B 400 |
| Peter Lewis and Peggy Van Epps | 94 | Sep 30-Oct 3 | Amsterdam, NY | 2012 Silver Shadow Teardrop |
| Mark & Gretchen Dwyer | 95 | Sep 30-Oct 4 | Chittenango, NY | T@B 320 |
| John and Lynne Gardner | 96 | Sep 30-Oct 3 | Rochester, NY | Teardrop |
| John and Henrietta Foster | 98 | Sep 28-Oct 3 | Rochester NY | 2016 T@B Trailer |
| Shannon McMahon | 102 | Sep 29-Oct 1 | Alma, NY | Rttc papa bear |
| Ray & Stacy Finney | 103 | Sep 30-Oct 3 | Liverpool, NY | 5x10 custom trailer |
| Dale & Kim Amond | 104 | Sep 30-Oct 3 | Liverpool, NY | 20 foot Starcraft trailer |
| Rich & Betty Filkins | 105 | Sep 6-Oct 5 | Westerlo, NY | Motor home |
| April and Dan Speed | 106 | Sep 30-Oct 4 | East Greenbush, NY | 13 foot Serro Scotty |
| Douglas Smith | 107 | Sep 27-Oct 5 | Rensselaer,NY | T@G Teardrop |
| Lynn and Dave | 108 | Oct 1-4 | Massena, NY | Gray Tab 320 CS-S |
| Lawrence Knoble | 109 | Sep 30-Oct 5 | Baldwinsville, NY | 24' Lance |
| Nadine Corrigan | 110 | Sep 29-Oct 5 | Remsen, NY | Yellow T@G |
| Ruth Erdmann | 114 | Sep 30-Oct 5 | Fairport, New York | Scotty |
| Tom & Alana Buscher | 121 | Sep 30-Oct 3 | Greenville, NY | 2014 Yellow Tab |
| Joe & Donna Aquilino | 133 | Oct 1-6 | Webster NY | Alto F1743 |
| Morris Stilson | 135 | Sep 30-Oct 2 | Schenectady | Vintage Overland |
| Debbie Roberts | 142 | Oct 1-4 | Schenectady, New York | a tent |
| Susan C Troll andMichael Rynasko | 158 | Sep 30-Oct 3 | Albany NY | Silver Shadow |