TearUp Events - TearDown the Adirondacks 2019 (October)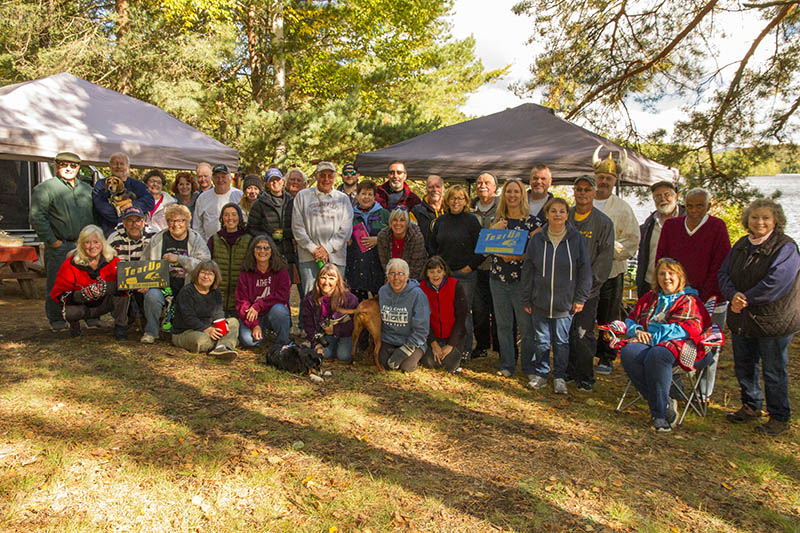 TearDown the Adirondacks 2019 (October)
Another great event has past!
Now open for registration! Please be sure you are showing up on the list. If not you can register directly from the event.
This is a slightly smaller gathering compared to the main June event held over a three day weekend at Fish Creek Pond Campground. We usually get a group together to paddle on the Saturday and have a mid afternoon pot luck which is always a blast !
Dates: Thu Oct 3 - Sun Oct 6, 2019
Suggest Sites: Sites 78-128
Activities: Socializing, Kayaking, Biking, Happy Hour and Campfires
Items to Bring: bike, kayak, something for the Saturday night happy hour (snack plate and refreshment).
List of All 58 Campers That Went
| Participant Name(s) | Site# | Dates | From | Equipment |
| --- | --- | --- | --- | --- |
| Richard & Margaret Jenny | 77 | Oct 4-Jul 7 | Middle Grove, New York | home built 5x8 |
| Tom and Alana Buscher | 82 | Oct 3-6 | Greenville, South Carolina | 2014 Tab |
| Elaine & Fred | 85 | Oct 3-6 | Catskill Mts, New York | E. C. Teardrop & Giant Tent |
| Geraldine | 86 | Oct 3-6 | Long Island, New York | Tab 320 |
| PotentialAdventure friend of Victoria and Ven | 88 | Oct 4-6 | Earth | Boler/little Guy/PickUp(not sure yet) |
| Joe & Donna Aquilino | 93 | Oct 3-7 | Webster, New York | T@G Trailer |
| Ray Finney | 94 | Oct 4-6 | Liverpool, New York | 5x10 custom trailer |
| Suzanne and Andre Bourget | 95 | Oct 3-6 | Ottawa, Ontario | Silver Shadow, Little Guy teardrop |
| John & Claudette DeSerres | 97 | Oct 4-7 | St. Eugene, Ontario | 1973 Bombardier Play Cat |
| John and Cindy Dzioba | 98 | Oct 3-6 | Cazenovia, New York | T@B 320S |
| Rosemary Yanson | 99 | Oct 3-7 | Schoharie, New York | Little Guy Max |
| Nadine Corrigan | 101 | Oct 3-7 | Remsen, New York | Yellow T@G |
| April and Dan Speed | 103 | Oct 3-6 | East Greenbush, New York | 1971 13 foot Scotty |
| Dave & Kate McGrath (Hosts) | 104 | Oct 3-6 | Ottawa, Ontario | 1976 Scotty Cabin Cruiser Reno |
| Trish & Paul Gerhardt | 107 | Oct 3-6 | Centreville, Maryland | 2017 T@B 320 |
| Mark and Gretchen Dwyer | 109 | Oct 3-6 | Chittenango, New York | T@B |
| Douglas | 111 | Oct 3-6 | East Greenbush, New York | T@G XL teardrop |
| Ruth Erdmann | 112 | Sep 19-Oct 17 | Rocheste, New York | 1971 Scotty |
| Dave & Lynn Castleman | 113 | Oct 4-7 | Massena, New York | Tab 320 cs/s |
| Glenn & Kathy Larish | 115 | Oct 3-7 | Westmoreland, New York | Tab 400 |
| Larry & Lynda Knoble | 120 | Oct 3-7 | Baldwinsville, New York | 24FT Lance |
| Ven & Victoria (Heidi) | 124 | Oct 2-7 | Monroe, NY & Kingston, NY | TAB |
| Gail & Tom Bradshaw | 125 | Oct 2-6 | Wilmington, New York | Lance 1685 trailer |
| Wayne Clark | 128 | Oct 3-7 | Albany, New York | 5X9 Hiker Trailer (Highway Deluxe) |
| Bet Langdoc | 144 | Oct 3-6 | Rotterdam, New York | Jayco Qwest Popup |
| Tim & Heather Castle | 147 | Oct 2-7 | Niskayuna, New York | T@B 320 |
| Debbie Roberts | 160 | Oct 3-6 | Schenectady, New York | tents |
| Betty and Rich Filkins | 185 | Sep 28-Oct 7 | Westerlo New York | Motor Coach |