TearUp Events - TearDown the Adirondacks 2020 (October)
CANCELLED
Due to COVID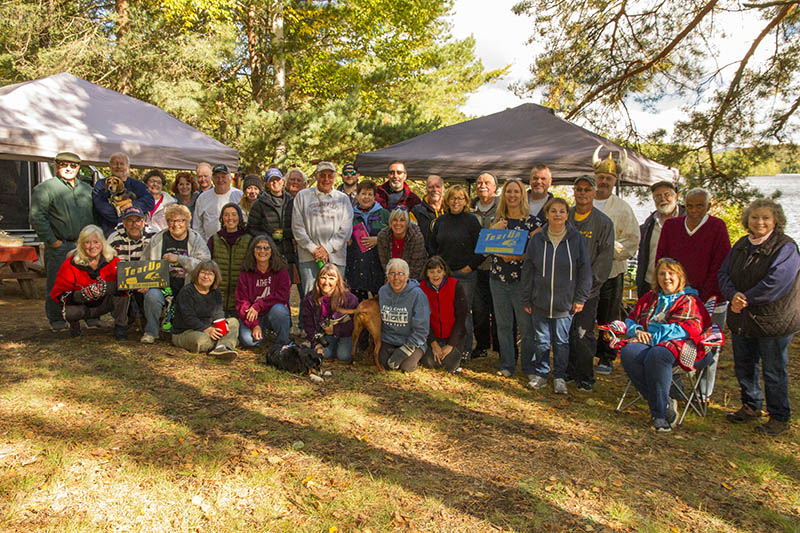 TearDown the Adirondacks 2020 (October)
Now open for registration! Please be sure you are showing up on the list. If not you can register directly from the event. There is a high chance this event will be cancelled as the US/Canada border remains closed, ie we can't attend and most official camping events across New York have been cancelled due to COVID. Many campers will still be going however as its a pretty informal event. Campers can still get together while social distancing and wearing masks where required.
This is a slightly smaller gathering (50-70 people) compared to the main June event held over a three day weekend at Fish Creek Pond Campground. We usually get a group together to paddle on the Saturday and have a mid afternoon pot luck which is always a blast !
NOTE! Due to the COVID-19 pandemic we had to cancel our other two events. Hopefully this one will proceed!
Dates: Thu Oct 1 - Sun Oct 4, 2020
Suggest Sites: Sites 78-128
Activities: Socializing, Kayaking, Biking, Happy Hour and Campfires. Swimming is still possible for the brave soles. Hopefully Nadine will have her book library open as well!
Items to Bring: bike, kayak, something for the Saturday night happy hour (snack plate and refreshment).
List of All 52 Campers That Went
| Participant Name(s) | Site# | Dates | From | Equipment |
| --- | --- | --- | --- | --- |
| Steve and Shelby George | Walkup | Oct 1-4 | Otisco lake ny | Cesna 150 Centurion ( plane converted to camper) |
| Kelly Wiggett | walkup | Oct 1-4 | Stevensville, Maryland | T@B |
| Bob & Susan Martin | 63 | Sep 24-Oct 3 | Richfield Springs NY | 34' jay flight travel trailer |
| Ven & Victoria | 88 | Sep 30-Oct 5 | Monroe/Kingston, New York | 2018 TAB Clamshell |
| Debbie Roberts | 91 | Oct 2-6 | Schenectady, New York | a tent |
| Patti & Bill Rose | 92 | Sep 30-Oct 5 | East Meadow, New York | Tab 320 CSS |
| Nadine Corrigan | 93 | Oct 1-4 | Remsen, New York | Yellow T@G |
| Joe & Donna Aquilino | 97 | Oct 1-5 | Webster, New York | 2016 T@G |
| Mark & Gretchen Dwyer | 98 | Oct 1-4 | Chittenango, New York | T@B |
| Rosemary Yanson | 99 | Oct 2-4 | Schoharie, New York | Little Guy Max |
| Dick and Peg Jenny | 100 | Oct 1-4 | Middle Grove, New York | 5X8 home made CLC teardrop |
| Lauren, Jim, and Barb | 101 | Oct 1-4 | Corning, NY | 5 x 10 home-built teardrop + tent |
| Tom & Alana Buscher | 102 | Oct 1-4 | Greenville, New York | 2014 Tab |
| Jim and Martha Boyce | 103 | Oct 1-4 | Pittsford, New York | T@B 320s |
| Dave & Kate McGrath (Hosts) | 104 | Oct 1-4 | Ottawa, Ontario | 1976 Scotty Sportsman Reno (Cabin Cruiser) |
| Bob & Jeanne Coad | 105 | Oct 1-4 | Oswego, New York | 35ft. trailer |
| April and Dan Speed | 106 | Oct 1-4 | East Greenbush, New York | 1971 Scotty 13 foot |
| kristine mastrodonato | 107 | Oct 2-5 | Rochester, New York | T@B320-CSS |
| Dave & Lynn Castleman | 108 | Oct 2-4 | Massena, New York | '15 T@b 320 css |
| Paul & Patricia Gerhardt | 109 | Sep 30-Oct 5 | Centreville, Maryland | T@B 320 |
| John and Henrietta Foster | 110 | Oct 1-5 | Pittsford, New York | 2016 T@B Trailer |
| Douglas Smith | 111 | Sep 26-Oct 5 | Rensselaer, New York | T@G XL boondocks teardrop |
| Paul LaHaise | 112 | Oct 1-4 | Carleton Place, Ontario | Teardrop |
| Kelly Wiggett | 113 | Sep 30-Oct 5 | Stevensville, MD | T@B camper |
| Jeff, Maria, Sophie & Jack | 113 | Sep 26-Oct 2 | Look into the camera... | Joymobile |
| John and Cindy Dzioba | 117 | Oct 1-4 | Cazenovia, New York | T@B 320S |
| Lawrence Knoble | 120 | Oct 1-5 | Baldwinsville, NY | 24' Lance |
| Tom bradshaw | 147 | Sep 30-6 | Wilmington, ny | Lance 1785 camper |